With the UFC or MMA becoming more and more popular in recent years, we can't help but wonder how many bets are being placed on each fight? And we are not only talking about main fights, as more people place bets on the undercards and still make a fortune on them.

But since every fight is unique, how do you bet? Who do you choose to bet on? Is it the favorite or the underdog? As we all know, even the slightest mistake can bring a dramatic turn of events, so you are looking at highly unpredictable bouts. This is especially true with UFC fights when even the heavy favorites and champions can pick up an unpredicted shock loss.

As a result, predicting the outcome of a fight and placing big bets on a winner is never straightforward. That is to say, a reason why bookmakers are playing it safe when placing the odds. But with UFC betting, the betting line can change due to actual real reasons and sometimes just rumors, such as a possible injury of a fighter or when the oddsmakers simply want to hedge their bets.

Regardless of the unpredictable nature of UFC betting, people have won, and they have won big. Here we discover the biggest bets ever made in the history of UFC betting. But first, a little on UFC betting and whether it's profitable or not worth it at all.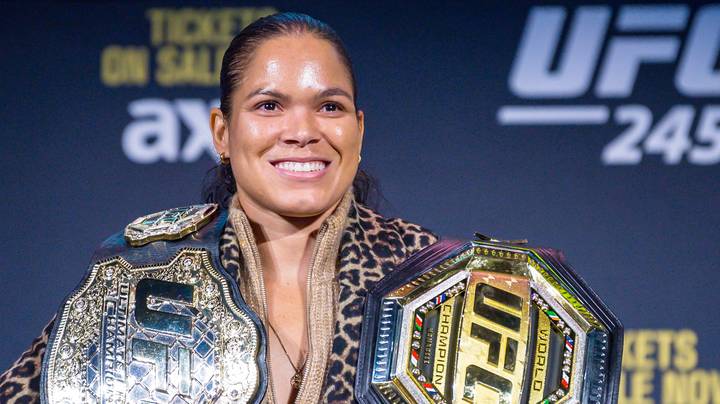 Is it worth betting on UFC fights?
If you are reading this, you have to be a huge UFC fan, and you have likely placed a bet on a fighter at one point in your life. So you should know by now that betting is unpredictable, otherwise betting on sports or anything in general wouldn't exist, because everyone will win!

Speaking of UFC betting, there is that thrill when you put a wager on the underdog and you win! Especially when you know that an underdog winning in UFC is not very common.
Here is an example on how to bet:

Fighter A is the top dog at -150. This means that in order to win $100, you would have to bet $150. Fighter B is a +200 underdog. This means that you would only have to bet $50 to win $100.

From our example, you can see that when you are confident that a fighter is going to win, betting on the favorite just isn't an overly profitable move. So how do you win and is it even worth betting on UFC fights?

The answer is yes. You just need to educate yourself on the fighters and bet smart, even if it takes you hours and days to learn details that will bring you closer to your reward. There are many factors to consider and look into before you place your bets. Factors such as training camps, injuries, mental state of the fighter at the moment, ring rust, change in weight class, travel time, and many many elements play a huge role when choosing which fighter to put your money on.

Also, despite all champion fighters that seem unbeatable, there is always an unexpected underdog that will surprise us all. While this doesn't happen often, it still happens, but when is always anyone's guess. The chances of the underdog winning are 30% of the time, so if you are feeling lucky, wait for a big underdog, do a little research and you may get lucky!

However, you can always turn to more dominant fighters if you are looking to make a small profit. It's easy to find out who the favorites have been throughout the years. Champions who have won the majority of their fights over the years are Francis Ngannou, Israel Adesanya, Kamaru Usman, Alexander Volkanovski, Amanda Nunes, Rose Namajunes, to mention a few. But remember, there is always the possibility of an upset.

The biggest bet in MMA history 
The biggest bet in MMA history was placed on UFC 250 when an unnamed high roller from Las Vegas placed a $1 million bet on the GOAT Amanda Nunes, a UFC women's featherweight and bantamweight champion to take down Felicia Spencer. Amanda Nunes is undoubtedly the best women's mixed martial artist of all time, and prior to that event, she had won 10 fights in a row.

"The Lioness" was the big favorite, -600 and picked up the unanimous decision victory after five brutal rounds at the UFC Apex facility in Las Vegas on June 6th, 2020.

For one lucky man, this meant a 7-figure win or $166,666.70 as a result. The bet was placed with William Hill and is known to be the largest bet on an MMA event so far.

When Nunes found out about the huge sum she joked about it saying she should have a fair share for delivering the goods. "Now he's very happy," Nunes said.
"He'll probably, like, go and drink something. He should ask me to go with him."

The 11-fight winning streak collected a $450,000 disclosed purse, including a $100,000 win bonus.

In Dana White's case, the biggest bet he has ever made on a UFC fight was $1 million on former middleweight champion Jermain Taylor against Kelly Pavlik in 2007. Taylor was the 8-5 favorite but was knocked out in the seventh round.

"I bet a million dollars on Taylor and he got destroyed," White told the Daily Wager's Doug Kezirian. "And that was the first time I'd ever bet a million dollars 'cause I was so confident that Taylor was gonna win that fight."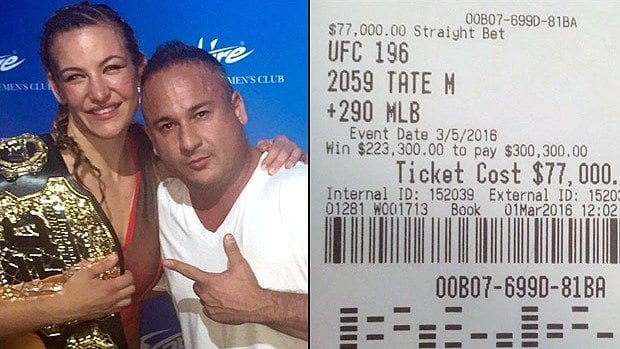 3 Biggest underdog bet wins in UFC history
The $1 million bet on the favorite Amanda Nunes in June was an excellent move for the Las Vegas punter, but here are some of the biggest underdog bet wins ever made in UFC history. 

UFC 193: Holly Holm Over Ronda Rousey
If you haven't already heard of the name Dave Oancea, or "Vegas Dave" in gambling circles, then you are not betting enough. Dave has made many successful bets and enjoys the status of a professional sports better or sports handicapper. When Ronda Rousey was on a 6-fight winning streak from 2013 to 2015 and seemed unbeatable, Dave Oancea thought differently. He placed a $20,000 bet on 11:1 underdog Holly Holm who won in a shocking upset at UFC 193 in Melbourne. With this event, Dave cashed in a ticket for $240,000.

UFC Fight Night 61: Ten Underdog Wins
The night we all remember was the night when 10 out of 11 heavy favorites lost, including Anderson Silva and Edson Barboza. The Porto Alegre event in February 2015 turned out so unprofitable for gambling sites that any kind of profit on combat sports would be nearly impossible to achieve for that year.

It cost one online gambling site over $1 million when twelve people had incredibly parlayed the 10 underdogs to win. The successful parlays gave them payouts of $10,000 or more.

For one lucky bettor, this event meant $48,291 cash out, after betting a dollar on the underdogs in nine of those fights.

UFC 196: Miesha Tate Over Holly Holm
Four months after his big win at UFC 193 Vegas Dave was at it again, betting the underdog. This time it was Miesha Tate challenging Holly Holm for the women's bantamweight title. Vegas Dave put down a hefty $77,000 on the +250 underdog to win. She came through in the fifth round with a submission (rear-naked choke) win. Tate got the belt and Dave got a tidy $300,000.

Vegas Dave was so confident in his bet that he sent Tate a text to let her know about the $77,000 wager he had placed on her. With the win, it put him at $460,000 on just two underdogs ladies of the UFC.

At UFC 200 Vegas Dave changed his tactic and took the favorite, which was Tate. He laid down a massive $1,000,000 bet which would have netted him $400,000, but once again it was the underdog that came through. It was a huge loss for him, but how was he to know that he had just bet against the woman that would become the greatest women's champion in MMA history.
Lady Luck can be a fickle companion.