1 – JON ANIK
Jon Anik is an American mixed martial arts commentator who currently works for the Ultimate Fighting Championship (UFC). He was an anchor with ESPN for more than 5 years before moving to the UFC as a color commentator in 2011.
Anik was born in Boston, Massachusetts, and is Jewish. He has an identical twin brother and two other siblings. He graduated from The Rivers School in Weston, Massachusetts. In 1997 and enrolled at Gettysburg College, where he was a member of Theta Chi[citation needed]. He graduated with a degree in political journalism. Anik spent one semester at American University in Washington, D.C., working as an intern for the George Michael Sports Machine. He has also interned in the sports department of The MetroWest Daily News in Framingham, Massachusetts.
2 – DANIEL CORMIER
Daniel Cormier is an American former professional mixed martial artist, amateur wrestler, and commentator for the UFC. He is a former Ultimate Fighting Championship (UFC) Light Heavyweight and Heavyweight Champion. Cormier is the second fighter in UFC history to hold titles in two weight classes simultaneously and is the first to defend titles in two divisions. As an international wrestler, Cormier was a six-time US World or Olympic Team Member, a World bronze medalist, a World Cup runner-up, a Pan American Games gold medalist (bronze in 2007), and a two-time Pan American champion. In folkstyle wrestling, he was an NCAA Division I National and two-time Big 12 Conference runner-up for the Oklahoma State Cowboys (all losses to the eventual four-time NCAA champion Cael Sanderson from Iowa State) and a two-time NJCAA champion.
Before competing in the UFC, Cormier was the Strikeforce Heavyweight Grand Prix Champion and King of the Cage Heavyweight Champion. He holds the distinction of having won a world championship belt in every promotion for which he has fought. Cormier is an analyst and commentator for the UFC.
3 – JOE ROGAN
Joseph Rogan is an American podcaster, UFC color commentator, comedian, actor, and former television presenter.
Rogan began his career in comedy in August 1988 in the Boston area. After relocating to Los Angeles in 1994, he signed an exclusive developmental deal with Disney and appeared as an actor on several television shows including Hardball and NewsRadio. In 1997, he started working for the Ultimate Fighting Championship (UFC) as an interviewer and color commentator.
Rogan released his first comedy special, I'm Gonna Be Dead Someday in 2000. From 2001 to 2006, he was the host of the game show Fear Factor. In 2009, Rogan launched his podcast The Joe Rogan Experience. Rogan began working for the mixed martial arts promotion Ultimate Fighting Championship as backstage and post-fight interviewer. His first show took place at UFC 12: Judgement Day in Dothan, Alabama on February 7, 1997.
4 – CHAEL SONNEN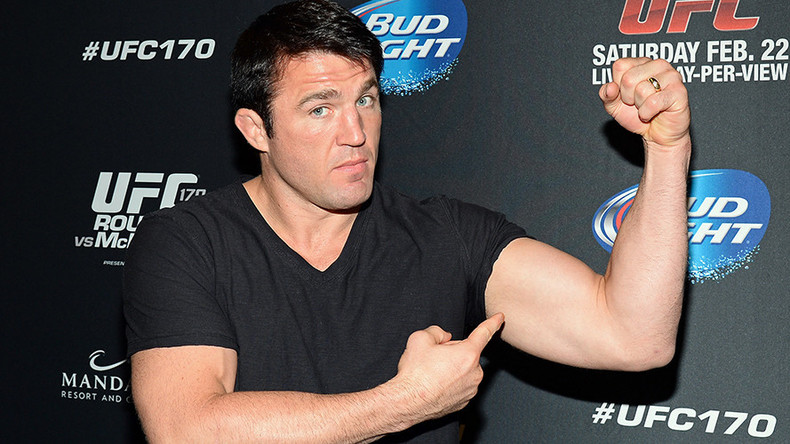 Chael Patrick Sonnen is an American submission grappling promoter, mixed martial arts (MMA) analyst, and retired mixed martial artist. Beginning his MMA career in 1997, Sonnen competed for the UFC, where he became a top contender in both the light heavyweight and middleweight divisions and challenged for both the UFC Light Heavyweight and UFC Middleweight Championships. Sonnen has also fought in the WEC, Pancrase, and most recently for Bellator MMA. Sonnen is often considered one of the best mixed martial artists never to have won a UFC Championship. In 2014, Sonnen began working as an MMA analyst for ESPN, and two years later, in July 2016, founded Submission Underground (SUG), his submission wrestling promotion. He is widely regarded as one of the greatest trash-talkers in MMA history.
Dominick Cruz, an American professional mixed martial artist is currently signed to the Ultimate Fighting Championship. He is a former two-time UFC Bantamweight Champion and was also the final bantamweight titleholder of World Extreme Cagefighting (WEC). He is a top-ranked UFC bantamweight fighter and one of the all-time best MMA fighters.
Cruz is noted for his unorthodox movement, powerful wrestling base, quick striking, and his tendency to attack from angles uniquely unlike any other fighter on the UFC roster. He won the WEC bantamweight title in March 2010 and won the inaugural UFC Bantamweight Championship the following December. Cruz defended the belt twice in 2011, Cruz was sidelined due to injuries in 2012 and later stripped of the title in 2014. On January 17, 2016, he regained the bantamweight championship with a split-decision win over T.J. Dillashaw. Numerous media outlets called this victory the greatest comeback story in MMA history.